MOVE Therapies Group Classes
ONLINE for your safety – via Zoom!
Join Us For Group Classes
 These classes are designed to help you:
Continue the improvements from the One on One classes in a group class atmosphere
Improve your balance, coordination and flexibility in your EVERYDAY movements
Reduce pain and tension levels
Improve and speed your rehabilitation process
Move with greater freedom and ease
Class Details
45 min long
$20/class – paid for by month
Clients can attend in person at our clinic or on zoom
Class video is recorded –  all people signed up for group class also received link to recorded video – so if you cannot attend you get access to the group class video to do at your leisure
Why Not join us! What have you got to lose?
These gentle and safe classes can not only diminish your existing pain and limitation, but you will also learn how to prevent future pain and limitations.
Over time, by continuing these lessons, you will be able to participate more successfully in fitness, exercise, dance, or sport programs of your choice – pain-free.
lWhat To Expect In MOVE Therapies' Group Classes: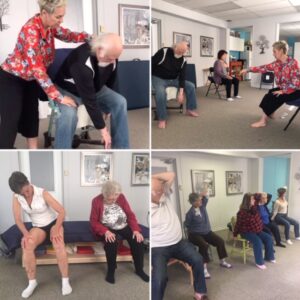 A MOVE Therapies Practitioner will be guiding you via verbal instruction through these classes.
These lessons are gentle, safe and easy to follow, yet the outcomes can be dramatic.
They are taught in such a way that people of all ages and abilities can participate and learn at their own pace.
Each class centers around a specific function or movement skill – like twisting, bending, balancing, rolling, sitting to stand etc. and the lessons build on one another to bring about profound improvements in flexibility, coordination and also work to heighten self-perception and mental acuity.
Each lesson is 45 minutes in length and depending on the classes – runs once or twice a week.
Please send us an email or give us a call if you are interested in learning more!
For More Information On How We Can Help You MOVE Smarter
Please contact us through one of the options below. 
Use Our Booking Tool Below: