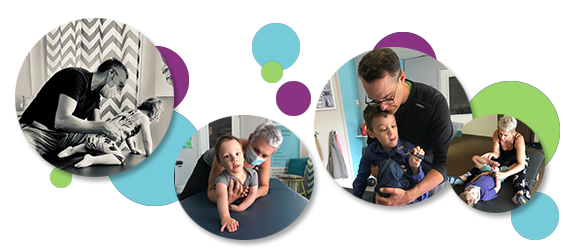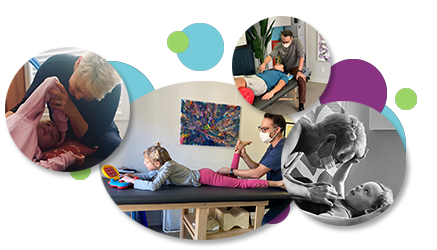 Testimonials For Children
Our 7-year-old daughter was diagnosed with ADHD in March and has struggled a lot socially at school and found it hard to stay focused.
We tried stimulant medication for 3 months but it affected her emotional well-being, so we switched her to a more natural nonstimulant medication.
That medication however took 30 days to get into her system, so we wanted to support her as much as possible during that time and decided to book some sessions with Move Therapies after reading about the benefits of ABM and children with ADHD.
After the first session, she was immediately calmer and more able to refocus herself, which made it easier for her to stay on task.
She also became more even-keeled emotionally and this has made her time at home happier with her siblings. Also, since starting her sessions, she is sleeping better without the need for melatonin and sleeps for 10-11 hours every night!
Previously it would take about an hour for her to settle to fall asleep and she woke throughout the night.
We are thankful for Move Therapies and plan on booking sessions throughout the upcoming school year to support her well-being emotionally, socially and academically.
Deanna, Mother, Osoyoos, BC
Down Syndrome – 4 Year Old Girl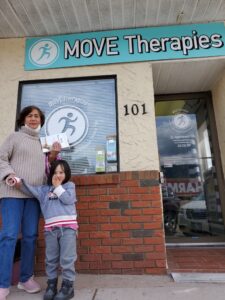 Dear Leanne & Dale,
I can't express my gratitude enough.
I'm just so lucky and thankful that I found Move Therapies – as I so want my daughter Miranda to improve and to grow as a person…and I now feel, with your help, she can!
While we were vacationing in Osoyoos, we walked by MOVE Therapies, saw their Special Needs Pamphlet on their window, spent some time on their website and booked one appointment, as we were leaving Osoyoos very soon. I am so glad I booked that 1 session!! It has changed our lives.
It was not only the Safest therapy environment Miranda had ever been in, but the results were AMAZING…after only 1 session!
Miranda began to use more language/words, right in the session, than she ever had before! New word after new word….it was truly unbelievable!
She also began to crawl around – over and under….everywhere, and so easily! Climbing like a little monkey!
One of the other things I loved about MOVE Therapies sessions, was the fact that they move and can work on the child – wherever the child wants to go! In other therapies that we have done in the past if Miranda was asked to 'stay lying on her back' and she didn't, the therapist said she couldn't help her. With MOVE therapies, when Miranda wanted to move, sit up, or crawl….they were able to keep working on her, in dozens of positions! This is so important with little kids, especially those with Special Needs.
And she LOVED Leanne…and it seemed like Leanne LOVED her! And this love/connection allowed Miranda the chance to try new sounds and movements that I believe she wouldn't have tried without that connection.
MOVE Therapies focuses on what the child CAN do (the positives) and not what they CAN"T….and because of this, Miranda did more than ever!
As her Mom, I am uplifted and encouraged by all the new possibilities and opportunities that are going to come. This one session was life-changing for Miranda and that's because of the people at MOVE Therapies! (They even set us up with a therapist like themselves in our hometown of Vancouver, which showed me how much they cared.)
I'm going to give up her usual traditional therapies. because these new sessions with Move Therapies showed me what true therapy can be like.
Thank you so much from the bottom of my heart,
I'll never forget your support and kindness – please stay in touch. We need you.
Sincerely, ❤ ❤ ❤
Maribeth (Mother to Miranda, 4-year-old with Down Syndrome, Vancouver)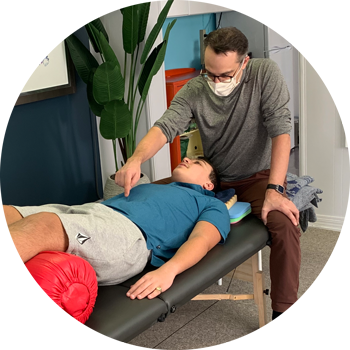 "I am a mother of 4; one of my children is diagnosed on the Autism spectrum (ASD) and also labeled ADHD & DCD (development coordination disorder) and OCD.
My 12 year old son started to see Leanne last year, but just a day here and a day there. Although he really enjoyed his time with her, and she taught ME a lot, I did not have the luxury of seeing a huge benefit at that time. It wasn't until I took Leanne's advice and booked my son for a one-week intensive, (meaning 5, 1 hour sessions, 5 days in a row) That we saw a massive improvement / difference!
During and after the one week intensive, he was more vocal, he was actually offering more information than just his usual one word answers, he was more affectionate toward myself and his younger sisters, and he was more involved in family activities. He had a calmness that I haven't seen in a very long time.
I was so incredibly happy to see these behaviour changes in him, that I decided to do a second one week intensive following immediately after the first one. I feel that this definitely established and solidified what was learned in the first week, and In the second week he was able to be more aware of his self regulation. Although his repetitive behaviours have not completely seized, he is able to be more self-aware, and the occurrences are less frequent. These may seem minuscule to the average parent, but having a child with ASD can be a real struggle and even the smallest advances are huge milestones and miracles in our world. We have booked our third set of lessons with Leanne Scott and I am excited and proud to tell everybody what wonderful work she and her partner Dale are doing for our community. I strongly encourage anyone struggling with chronic pain or any disorders of any source to give ABM / MOVE Therapies a try. I myself have enjoyed a few lessons and will continue in group sessions to help with my fibromyalgia/chronic pain issues."
Cheryl Das, Mother, Osoyoos, BC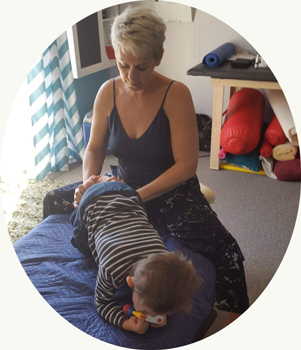 "I am a mother of 2 children, my son who is 4 has a diagnosis of Cerebral Palsy. Being as open minded as possible to all therapies for my son, and after reading Anat Baniel's book "Kids Beyond Limits, " we booked in with Leanne, an Anat Baniel Movement (ABM) Practitioner at MOVE Therapies in Osoyoos, BC. We did the 3 day Intensive (2 lessons a day, 30-45mins each).
He had lots of fun and was very responsive to Leanne (he often has anxiety with new people and places) and the way he let her move him around…it was amazing! (I won't lie, at his age he has a strong will and if it's not fun, there is no way he's cooperating, but he was very willing with her!)
After this last intensive he has been moving very differently; the way he uses his hands more effectively, the way he tilts his head back to drink from a cup. His movements are more fluid and not so stiff. His movements just seem so much easier for him now! Also his speech has improved so much!!!
All of this will help him become even more independent – looking forward into the future.
Being a special needs parent is a huge job: what therapies? what equipment? The list goes on…but if there's one thing I would suggest, its ABM Therapies with Leanne at MOVE Therapies! Non invasive, educational and fun for the kids!
Candice Hartmann, Mother, Kelowna, BC
Quadriplegic Spastic Dystonic Cerebral Palsy 
"Our ABM intensive at Move Therapies in beautiful Osoyoos was a great way to get therapy for our son and a holiday away from home. They were very accommodating on the dates and times to work around our son's schedule. We were even more lucky to be able to pair the intensive with with a third ABM therapist, Jen Stewart of Mindfullmoves, who was in town during our stay.
They provided info about hotel where to stay at discounted rates for a one-bedroom suite with a heated indoor pool (Best Western), and linked us to horse riding therapy in Oliver (EZ Acres). Leanne and Dale of Move Therapies even offered to set us up with a babysitter so we could go out for dinner one night. They are great therapists and our son loved them. And Osoyoos is just breathtaking, at any moment of the year. We will go back that is FOR SURE. Thanks guys, can't wait to go back."
Geneviève from Vancouver